Usage:
Grooving machine belong to the Gift box package production line equipment. The machine is special designed for notching V type groove, use for industry-cardboard, Ash-cardboard, MDF board and other several of cardboard, to make it suitable for box or other packaging making. Used for High quality package, Gift Box, Jewelry boxes, Watch packaging, mobile phone boxes, wine boxes, Storage box, shirt and shoes boxes, make-up, toiletry boxes, biscuits and cakes boxes, note book cover, book shape boxes, hardcover, file folders, display, game boards, display stands, posters and calendars, etc.
Process:

Specification:
| | |
| --- | --- |
| Model | MSKC-1000B |
| Width of Paper Board | 100-950mm |
| Length of Paper Board | 100-950mm |
| Groove Gap (between two grooves) | 0-830mm |
| Thickness of paper Board | 300gsm-3.6mm |
| MDF Board | 0.5-3mm |
| High Accuracy | 0.1mm |
| Knife angle | 80-140 degree grooving |
| Knife shape | V grooving |
| Number of Grooves at one time | 9pieces |
| Grooving Speed | 10-35/min(8000-12000unit/8h) |
| Motor power | 2.2kw |
| Voltage | 220V/380V/440V 3phase |
| Machine weight | 1200kg |
| Machine Dimension | 1300*1500*1400mm |
| Package Dimension | 1400*1650*1700mm 3.7CBM |
Machine Main Brief:
1. After notching, the surface of cardboard is very clean and no dust.
2. The machine is economic, total power is 2.2KW only and it is little noise.
3. The machine can produce about 1000 pcs boxes per hour which feeding by hand, it is fast.
4. The cutting blade can cut 8000-12000 sheets one time, then you should to sharp the blade and it is takes about two minutes only. We will supply a sharpen machine by free and it's very easy to operation.
5. The machine could groove any thickness from 300gsm-3.6mm.
6. It adopts new way of transportation principle. Wrap the cardboard on the entire surface of the roller (The diameter is 61cm), It can guarantee the groove more accurately, no deviation and straightly.
7. The machine has the features of high accuracy, fast speed and durable cutting blade.
Machine details:
1.Board feeding and after grooving board outing

2. Board grooving through Large roller turns and knife cutting grooves.
The grooving degree adjust through knife holder swing.

3.Different board thickness with different belt pressure. We could adjust the belt pressing wheels.
4.V shape and U Shape Grooving Knife depend on customer reminds.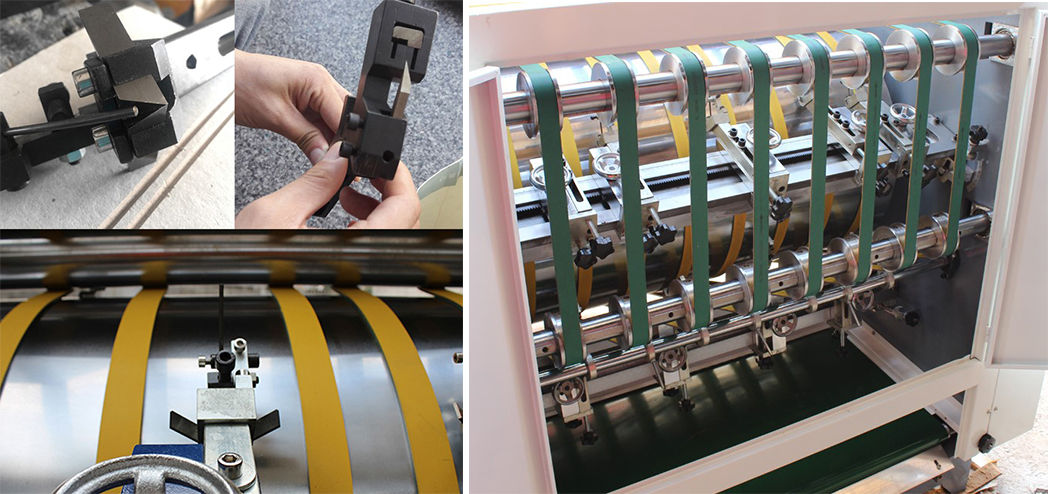 5. Strip Scrap auto output.
6.Blade could repeat use, every machine encloses one sharpener.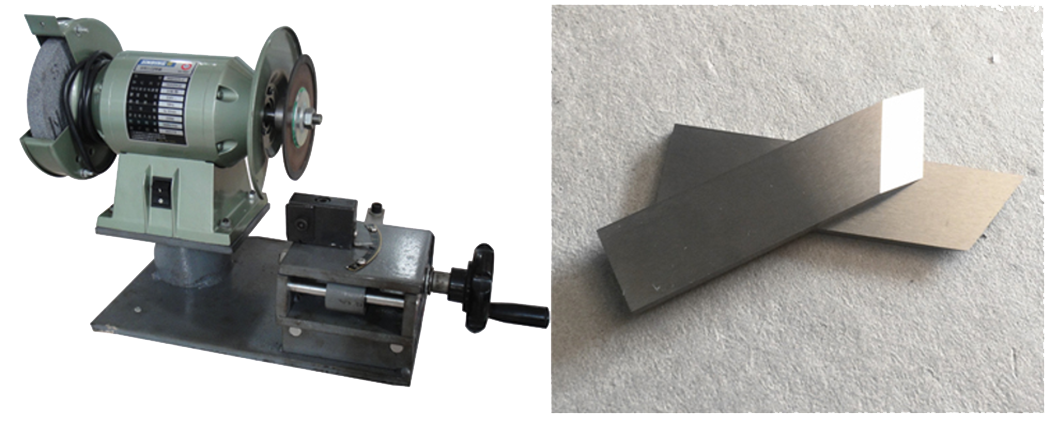 1. Each cutting blade could move left and right by itself.
2. Double sides position plate are adjustable. The can ensure the precision.
3. The belt press wheel could adjust the pressure of belt.
4. The counter is used for record the number of production.
5. The wheel is use for adjust grooving degree from 80-140.
6. Scrap remove equipment.
7. Special use knife grinder, usually grind one piece of cutting blade need 2 minutes only.
8. Cutting blade and holder.
9. Standby belt and 4kw adjustable speed Frequency converter.
Samples:

Warranty Service:
Machines are new (or unused) and the guarantee period will be given thirteen months from shipment date. During this period, the seller will provide free maintenance and free spare parts that caused by the machine's quality, but the buyer must pay the courier cost. Parts damaged because of mishandling and consumable parts are not covered by any warranty.