USAGE AND FUNCTION
Y series of machine adopts whole slot-less worktable surrounded by double guide paper sending system. For this system, paper sending speed is high and paper sender posit precisely. Controlled through hydraulic system which make the pressure can be adjusted bigger. The paper -pressing pressure can be adjusted from 200N to 55000N, which ensure the cutting quality. The cutting is operated by double hands. And the machine is installed with safe devices such as photo cell, electronic knife lock and single recycle cutting, it has features of low noise large cutting power, high precision. Customer can choose to equip the machine with the electric components imported from France, Germany, japan. High speed ball screw of Taiwan and the hydraulic system with European safety certificate.
PRODUCT DESCRIPTION
1.USAGE: Program Control Paper Cutting Machine is used to cut the printing paper of various kinds, paper products, plastic, thin film, leather, slice of non-ferrous metal, etc.
2.COMPUTER: it adopts 8/10/15 inch color liquid crystal display screen,2000 groups programming capacity, each of them can store 999 cuttings' datum of different locations;0.01 mm position accuracy; six kinds of language; the working speed is 6-18m/min.
3.DOUBLE HYDRAULIC DEVICE: the hydraulic system adopts the Germany advanced technology. Equipped with combined hydraulic valve, double hydraulic controlling structure, it approves hydraulic device greatly. The hydraulic device pass CE certificate.
4.DOUBLE GUIDE DEVICE: the paper pusher adopts double imported linear guide and roller ball screw. which can prolong the machine use life, and can bear the high speed paper delivering.
5.PHOTO CELL: it is equipped with a photo cell safety protection device.
6.OVER LOAD PROTECTION DEVICE: convenient knife changing device.
7.WORKTABLE CHROME TREATMENT: the worktable and side board surface are all adopted chrome treatment to improve the precision and quality of the machine.
8.AIR BALL: air balls are installed in the worktable. The paper sending work will be easy and accurate.
9.CUTTING CONTROLLER: both of the user's hands operate the machine. It can cut paper in one time.
10.ELECTRONIC KNIFE LOCK: when the machine is malfunction, the electronic knife lock will lock the knife, and the machine will stop cutting to protect safety.
11.SAFETY NOTICE & GLASS COVERS: the machine has passed CE certificate. All the safety notice and direction mark is used to cause the safety attention of the user, and do protection and maintenance in time.(optional)
12.MAIN ELECTRIC DEVICE ARE IMPORTED FROM GERMANY, FRENCH, JAPAN, ETC.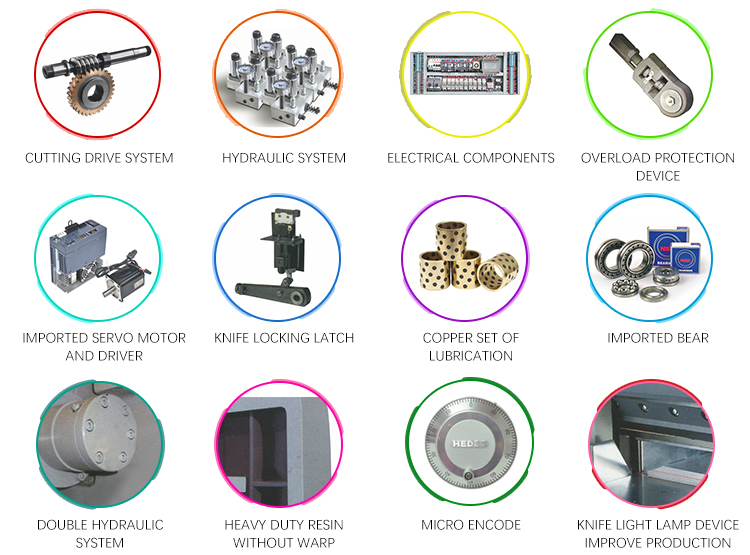 TECHNICAL DATA
| | | |
| --- | --- | --- |
| Model | unit | Y1300D |
| Total width of machine | cm | 280 |
| Half width of machine | cm | 100 |
| The thickness of machine´s subgrade | cm | 20 |
| Total width of machine body | cm | 221 |
| Total length of machine | cm | 280 |
| The length from cutting position to the front table | cm | 73 |
| the height from working table to ground | cm | 93 |
| Total height of machine | cm | 168 |
| Max. cutting length | cm | 135 |
| The length from cutting position to back table | cm | 185 |
| The length of side table | cm | 65 |
| The length of machine cushion | cm | 70 |
| The width of working table | cm | 130 |
| The width of groundsill of machine foot | cm | 60 |
| Max cutting width | cm/lnch | 130/51.2 |
| Max. cutting length | cm/lnch | 135/53.1 |
| Max cutting height | cm/lnch | 13/5.1 |
| Main motor power | Kw | 4 |
| Weight | kg | 3500 |
| Width of machine with sideway | cm | 267 |
| Width of machine without sideway | cm | 237 |
| Machine Length | cm | 280 |
| Machine Height | cm | 157 |
| Front table length | cm | 73 |
| Table Height | cm | 89 |
| Min Clamp pressure | N | 200 |
| Max Clamp pressure | N | 40000 |
| Knife thickness | cm | 152×12.7×1.27 |
| Grinding reserve | cm | 3 |
| Min cut without false clamp | cm/lnch | 3./1.2 |
| Min cut with false clamp | cm/lnch | 10/3.9 |
| Cutting speed | cycles\min | 45 |
| Packing size (L×W×H) | cm | 283×142×194 |
| Voltage(three-phase) | V | 365-395 |
| Wire size | mm2 | 2.5 |